Shaker Dean Lewis just emailed me about a new feature at CNN.com, whereby you can get their headlines printed on a t-shirt. A little t-shirt icon appears next to the headline links on the front page: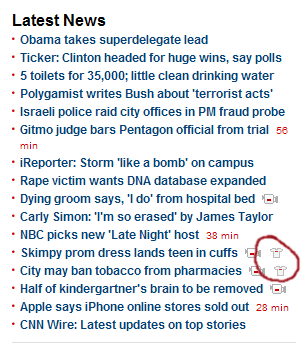 …and when you click on the t-shirt, it redirects you to a page with the headline shown on a t-shirt, followed by "I just saw it on CNN.com" followed by a timestamp: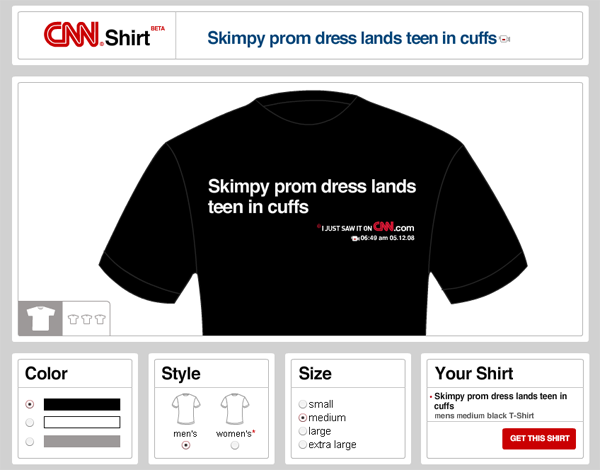 Why anyone could even want this capability, I have no idea. But it's interesting that the t-shirt icon doesn't appear by
every
headline—and the selection is somewhat curious. It's understandable they didn't think "5 toilets for 35,000; little clean drinking water" or "Rape victim wants DNA database expanded" or "Dying groom says, 'I do' from hospital bed" or "Half of kindergartner's brain to be removed" were appropriate for their zany t-shirting fun, but why, I wonder, do they think that "Skimpy prom dress lands teen in cuffs" is? You know, some things just don't belong on a t-shirt, and I don't have much faith in CNN to discern the difference.
No good can come of this. I give it one month before I see it next to a rape headline.
That, of course, won't be using the word rape.