Bush suggests Obama wants 'appeasement' of terrorists
: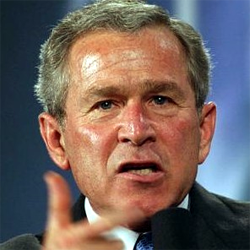 President Bush launched a sharp but veiled attack Thursday on Sen. Barack Obama and other Democrats, suggesting they favor "appeasement" of terrorists in the same way some Western leaders appeased Hitler in the run-up to World War II.

The president did not name Obama or any other Democrat, but White House aides privately acknowledged the remarks were aimed at the presidential candidate and others in his party.

…"Some seem to believe we should negotiate with terrorists and radicals, as if some ingenious argument will persuade them they have been wrong all along," Bush said at Israel's 60th anniversary celebration in Jerusalem.

"We have heard this foolish delusion before," Bush said in remarks to Israel's parliament, the Knesset. "As Nazi tanks crossed into Poland in 1939, an American senator declared: 'Lord, if only I could have talked to Hitler, all of this might have been avoided.' We have an obligation to call this what it is — the false comfort of appeasement, which has been repeatedly discredited by history."
First of all, that's just hilarious considering what President Mondo Fucko's own grandpappy
was doing during back in the day
.
Secondly, he really needs to just STFU just on principle. Bush is so over, he's more over than fucking
Hardy Jenns
after Vahlere crashes his pretty little party: "You want the truth? You want the plain truth? You're over."
(Yeah, that's right—a 21-year-old John Hughes movie reference cross-referenced with a nod to
Say Anything
. Eat it!)