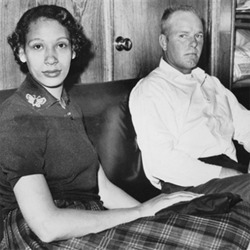 Mildred Loving, the "matriarch of interracial marriage,"
has died
at age 68. Loving, who was of African and Rappahannock Indian descent, and her husband, the late Richard Loving, were the "Loving" in the landmark 1967 civil rights case,
Loving v. Virginia
, in which the Supreme Court ruled that Virginia's anti-miscegenation statute was unconstitutional, thereby paving the way for legal interracial marriages throughout the nation.
Loving and her white husband, Richard, changed history in 1967 when the U.S. Supreme Court upheld their right to marry. The ruling struck down laws banning racially mixed marriages in at least 17 states.

They had married in Washington in 1958, when she was 18. Returning to their Virginia hometown, they were arrested within weeks and convicted on charges of "cohabiting as man and wife, against the peace and dignity of the Commonwealth," according to their indictments. The couple avoided a year in jail by agreeing to a sentence mandating that they immediately leave Virginia. They moved to Washington and launched a legal challenge a few years later.

After the Supreme Court ruled, the couple returned to Virginia, where they lived with their children Donald, Peggy and Sidney. Richard Loving died in 1975 in a car accident that also injured his wife.

In a rare interview with The Associated Press last June, Loving said she wasn't trying to change history — she was just a girl who once fell in love with a boy.
Let's lift our teaspoons to Mildred, Shakers.

Surrounded as I am now by wonderful children and grandchildren, not a day goes by that I don't think of Richard and our love, our right to marry, and how much it meant to me to have that freedom to marry the person precious to me, even if others thought he was the "wrong kind of person" for me to marry. I believe all Americans, no matter their race, no matter their sex, no matter their sexual orientation, should have that same freedom to marry. Government has no business imposing some people's religious beliefs over others. Especially if it denies people's civil rights. I am still not a political person, but I am proud that Richard's and my name is on a court case that can help reinforce the love, the commitment, the fairness, and the family that so many people, black or white, young or old, gay or straight seek in life. I support the freedom to marry for all. That's what Loving, and loving, are all about.
—Mildred Loving, June 12, 2007, on the 40th anniversary of the
Loving v. Virignia
decision.