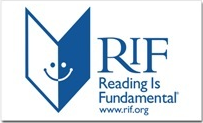 Reading is Fundamental
is an organization that's been around since the 60's and, according to its site, is:
"the oldest and largest children's and family nonprofit literacy organization in the United States."
RIF delivers books and literacy help to the children and families who need them most.
All RIF programs combine three essential elements to foster children's literacy: reading motivation, family and community involvement, and the excitement of choosing free books to keep.
RIF is in trouble
. In a move that is, by now, completely unsurprising, Bush has eliminated all funding for the program--funding that has been given by every administration since 1975--in the 2009 proposed budget.
RIF
has created a way for you to contact your congressperson
to make them aware of this and encourage them to take action to save the program. Please do so. The last thing this country needs is less literacy and literacy support.