Part Wev in the ongoing series loosely known as The End is Nigh Watch.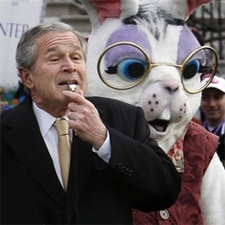 President Mondo Fucko is keeping himself pretty busy these days, what with playing with giant bunnies and searching for unicorns on Mars and all, which leaves him very little time for the silly obligations of presidenting, like paying attention to the enormous economic clusterfucktastrophe bearing down on the nation like
Sayid Jarrah with an axe to grind
.
The
New York Times
reports Bush's awolery under the wry headline "
In Economic Drama, Bush Is Largely Offstage
," which, given his contributions to said drama, is certainly an undisguised blessing. As ever, though, it is relentlessly infuriating how blithely
unaffected
Mr.
Joyful
Britches is by the whole thing: "The first hint that President Bush might be detached from the nation's economic woes was in February, when he conceded that he had not heard about predictions of $4-a-gallon gasoline." The MBA president also continues to warn against "massive government intervention," even as his administration broke from their love affair with social Darwinism to bail out Bear Stearns, and his party scrambles alongside the Democrats in Congress "to produce a bill to help struggling homeowners." He is, to the end, steadfastly clueless.
Nonetheless, former Reagan chief of staff Kenneth M. Duberstein is exhorting Bush to "get back in the public conversation again" so people can talk about "What's George Bush thinking? What's George Bush going to do?" As if we give a flying shit. Meanwhile, White House Spokesjerk Tony Farto swears that Bush "is very much in touch with the economy. He is out in the country a lot. He is talking about the economy very, very regularly."
Of course, for Bush, that likely means
telling
a woman who works three jobs that it's "fantastic" and "uniquely American."
292 days.