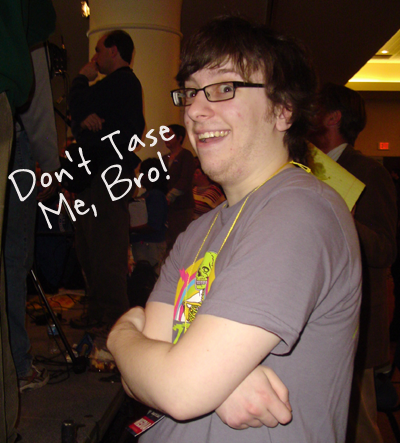 Kenny Blogginz would prefer to not be tased, bro.
Sorry I've been AWOL today, Shakers. Since the candidatez are crawling all over Indiana these days, and since the last Democratic presidential candidate spotted in these here parts was Bobby Kennedy (seriously), which was before I was even born, Kenny Blogginz and I decided to do a little
participating
in our
participatory democracy
today! We went to see Hillary, who was in our general vicinity—and we're hoping to see Barack, too, if and when he swings back in our direction. (No appearances are scheduled right now, unfortunately.)
It was a townhall-style event, so Hillary gave a short speech and then took questions from the audience. (The guy who introduced her said she had "testicular fortitude," which prompted her to note when she took the mic that both women and men could have fortitude of their own—and she has it! Lots of applause.) She was totally compelling, extraordinarily competent, a great extemporaneous speaker with an unbelievably detailed grasp of the issues, and funny as hell. ("I wouldn't trust the Bush administration to organize a two-car parade." This gave me the image of Bush and Cheney each driving clown cars in different directions, which sent me into fits of giggles.)
The one thing KenBlogz and I just couldn't. get. over. was how profoundly not the Dragon Lady she is, despite what we are meant to believe. KenBlogz's comment was, approximately, "The way the media represents her is a complete lie; they might as well say she stabbed someone onstage, which would be just as truthful as the way she is represented." This, from an 18-year-old. The reporter in front of us (we were in the media section) reading The Drudge Report through most of her speech would no doubt be shocked by his observation.

In person, from about 10 yards away, Hillary was as warm, friendly, charming, and engaging as any politician I've ever seen. And the crowd—way more diverse than I expected—adored her. She got several standing ovations.

In the parking lot afterwards, I heard a woman—middle-aged, wearing a union t-shirt, either white or Latina—telling her friend she was glad she came. "She totally won me over," she said. Wheeeeeeeeeeee! Yay, democracy!

That's probably nothing special to you Shakers in Iowa and New Hampshire, but it's been 40 YEARS in Indiana, yo! It was a good day for a political junkie—and lots of people who want to feel like they're remembered in D.C., too, but rarely are.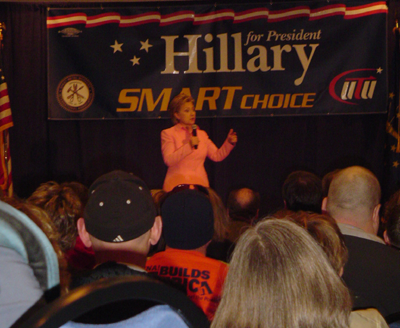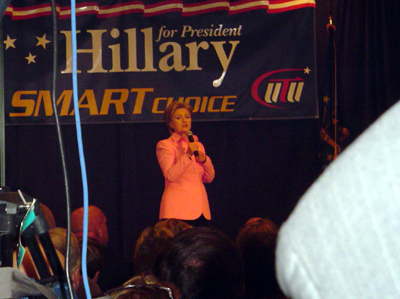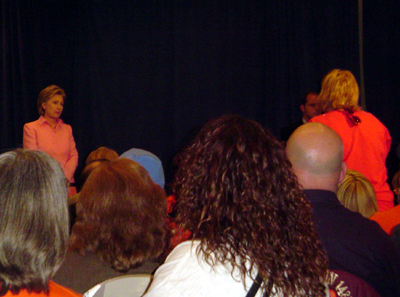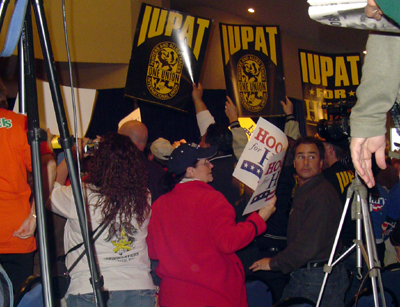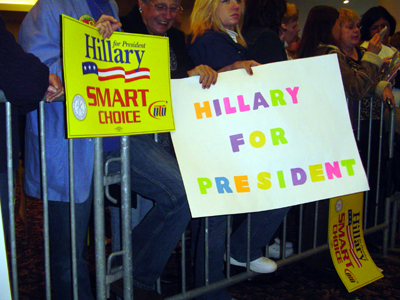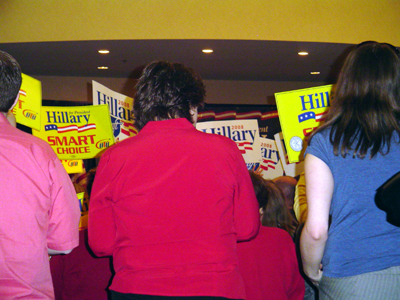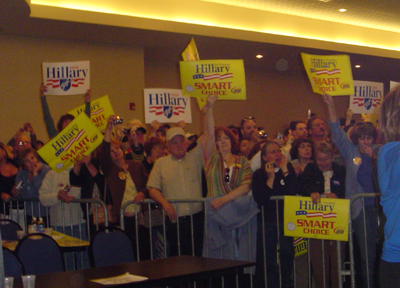 You can't tell in my pix, but her blazer was a lovely pink.