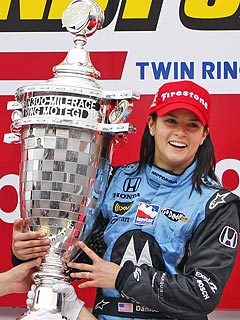 Shaker Jim H. sent me the link to
this story
about Andretti Green Racing team member Danica Patrick making history this weekend as "the first woman to win a major auto race by capturing the IndyCar Series' event at the Twin Ring Motegi circuit in Japan."
Patrick, led by a smart call by team manager Kyle Moyer, Monrovia, Ind., went the final 51 laps without a pit stop to become the surprise winner of the Indy Japan 300.

Patrick passed two-time Indianapolis 500 winner Helio Castroneves three laps from the finish to take the lead as the front-runners pitted.

…"It's a long time coming," Patrick said on ESPN's television broadcast. "Finally!"
Woot!
Of course, you knew it was only a matter of time before the bullshit started. Under the headline "
Putting Patrick's victory in perspective
," Bob Margolis helpfully explains that "Danica Patrick's first IndyCar win in the Japan 300 was more a triumph in public relations than auto racing." Of course it was.
Shaker Stayss tears that article a new asshole via email:

Bob Margolis: The win was the result of a well-calculated move—pure and simple.

Stayss: As is every other fucking win in racing, asshole.

BM: And after tiring of fending off questions about when she would win, she distracted her detractors by posing in swimsuits and making suggestive ads for her sponsors.

Stayss: You know...cause the boys shun sponsors and work for fucking free.

BM: It may be a model of how persistence, a pretty face and the willingness to take the heat can pay off in the end.

Stayss: And thank fucking God she's pretty, because if she were not, she'd certainly have miscalculated her pit strategy.

BM: And cast no doubts about it. Her victory is the first ever by a woman in Indy cars.

Stayss: ...but the point is to do just that and say it doesn't matter and highlight that it'll most likely not happen again, or all the boy's penises will fall off or whatever other tragedy could result from her success. Jesus.

BM: Until [she wins again], this win leaves itself subject to scrutiny.

Stayss: You know, my heart absolutely bleeds for those who have to go first.

Mine, too. But always remember: Every time some dude has to spend 799 words explaining why a woman's victory isn't a real victory, another feminist gets her wings.