In December
, Indiana lost one of our finest members of Congress when 7th district's Julia Carson died.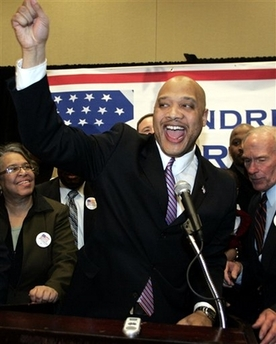 Yesterday, there was a special election to fill her seat—and it
was won
by her own grandson, Andre Carson.
Democrat Andre Carson beat back a Republican challenge to win the Indiana House seat long held by his late grandmother, Julia Carson, in a special election on Tuesday.

…Carson, an Indianapolis City Councilman, said he would oppose the Iraq war and the privatization of Social Security, positions taken by his grandmother, who served in Congress for nearly 11 years.
Carson, at 33, will be the second youngest currently serving representative, and also becomes the second Muslim to serve in Congress, following in the footsteps of Minnesota's
Keith Ellison
, who will hopefully lend Carson
the book on which he was sworn in
.