L. Brent Bozell, the doyen of the far right wing,
says
that the conservative are not mollified by John McCain's nomination.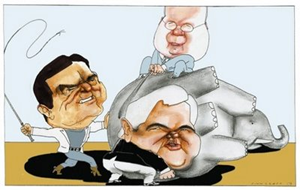 The conservative talk-show community? Don't mind them -- they're irrelevant.

This message from John McCain surrogates and other members of the political class is filling the airwaves and op-ed pages. In the Wall Street Journal, Weekly Standard Executive Editor Fred Barnes recently wrote that McCain needn't worry that conservatives are uncomfortable with his candidacy, because "while they love to grumble and grouse, conservatives tend to be loyal Republicans who wind up voting for their party's candidate."

In the same pages, novelist Mark Helprin, a former adviser to Robert J. Dole's presidential campaign, savaged conservatives such as Rush Limbaugh, Sean Hannity and Mark Levin for daring to speak out against McCain. "Rather than playing recklessly with electoral politics by sabotaging their own party," he wrote, "each of these compulsive talkers might be a tad less self-righteous, look to the long run, discipline himself, suck it up, and be a man."

I know the conservative movement. I've been in the trenches fighting for an alphabet soup of conservative causes for 30 years. I've raised hundreds of millions of dollars for it. And I earnestly hope that McCain isn't listening to the advice he's getting from these folks. Their thinking betrays a fundamental misreading of the conservative pulse in America today.

Conservative leaders, particularly those in talk radio, cannot and will not be silent. They will not betray their principles and their audiences. Tens of millions of activists turn to them for guidance. These activists could be, and need to be, McCain's ground troops, but unless and until conservatives believe him -- and believe in him -- they will not work for his election. McCain may have the Beltway crowd in his corner, but grass-roots conservatives aren't sold.

Yet through his surrogates, McCain is attacking these leaders. This is beyond folly. It is political suicide.

For 20 years, the moderate establishment of the Republican Party has told conservatives to sit down, shut up and do as we're told. History shows that sometimes we bite the bullet. But not always. I absolutely guarantee that this year we cannot be taken for granted. This is a movement fed up with betrayals, and they've come one after the other.

[...]

This is what conservatives call on him to do:

McCain must present a strategy to defeat the threat of radical Islam. He needs to call on the United States to rebuild its military infrastructure, so devastated by the Clinton administration. He should secure our borders by a date certain. In every great struggle, the citizenry -- everyone, not just the country's military -- has been challenged to participate. McCain could make this the clarion call for volunteerism, for national service.

If McCain believes in freedom, he should promise to take the yoke off the American taxpayer. He has embraced making the Bush tax cuts permanent. Good. Now he should pledge to end the estate tax and lower the corporate tax rate to 25 percent. In fact, he should call for an overhaul of the tax system. The flat tax or the fair tax -- either is preferable to the monstrosity that is the Internal Revenue Service.

The federal government is out of control. Conservatives don't want to hear talk about "reining in the growth of government." Those are empty words. McCain needs to call for the elimination of entire sectors of the federal leviathan. He should pledge to turn back to the states that which is their responsibility and which comes under their authority. We want to see how he will deregulate the private sector and how he will once again unleash the economic might of the United States. He should champion private retirement accounts and health savings accounts.

McCain should place the left on notice -- now -- that if elected, he will not tolerate congressional obstructionism of his nominations to the federal judiciary.

Our culture is decaying from within, and most Republicans have been shamefully AWOL on this issue. McCain could begin a national conversation about parents, not the state, taking responsibility for their children and their communities. He should call on the entertainment industry to stop polluting America's youth with its videos and its music and on the Internet. We wait to hear him call for the United States to honor the sanctity of life, the sanctity of marriage and family, and to return God to the public square.

If McCain offers this kind of vision, Washington elitists will scoff. But he should remember that they also scoffed and dismissed Ronald Reagan, all the way to his election. And his reelection.
Let's see, the conservatives had Fred Thompson, Tom Tancredo, Sam Brownback, and Duncan Hunter run in the Republican primaries. All of them have impeccable conservative credentials, and all of their campaigns cratered before Groundhog Day. It's obvious that none of them or their platforms are acceptable to the majority of Republicans, let alone the rest of the country, so for Brent Bozell to start dictating terms to John McCain is an amusing exercise in chutzpah, if not overblown ego on his own behalf. Fanatics always think they have a large army behind them when they're backed into a corner.

(Cross-posted.)