Last night, Ryan Phillippe was on
The Tonight Show
, which gave Jay Leno the opportunity to do one of his favorite things: Laugh at gay men!
Now, Phillippe isn't gay, but he played Billy Douglas on
One Life to Live
, which was the first out gay teen character on American daytime television—and Phillippe was once naked in a jeans commercial, so that's good enough for Jay.
Says
Andy (who's got the video): "[T]he first topic Leno brought up was Phillippe's first acting role as a gay teen on
One Life to Live
. No matter that the role was a serious one in which a gay son came out to his father. Leno had to squeeze as much of a joke out of the fact that his first acting role was a gay part, even asking Phillippe to look into the camera and give his 'gayest look'."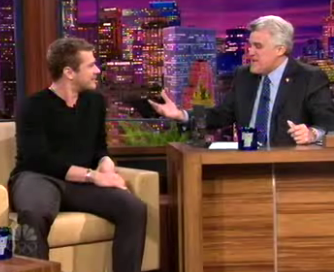 Aside from the obvious problems in the clip, Leno's contempt for soap operas, especially during a conversation about a landmark gay character, is really aggravating, given their important, if oft-ignored, role in social progress. Soap operas have been ahead of the curve on introducing feminist ideas, divorces, single mothers, interracial romances, and gay and trans characters, just for a start. Characters representing the cutting edge of social movements have been beaming into the living rooms of (mostly) stay-at-home moms, using their empathy for characters in whom they are emotionally invested to challenge biases and open minds, for decades. It's all just a big joke to Jay Leno, which is a particular vexation given that it is by virtue of his straight male whiteness that he could ascend to host of
The Tonight Show
, one of the most coveted (but square) gigs in comedy, despite being only marginally funny, at best.