Axe stinks. Literally
and
figuratively
: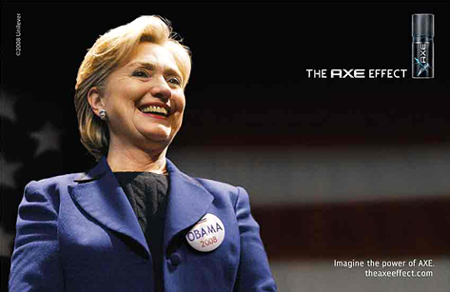 Did you get the subtle message there? Obama wears axe cologne; becomes irresistibly sexy to women; Hillary's womanly loins are so overcome that she abandons her own presidential bid to support him.
And you thought
the old definition
of vagina voting was bad.
Btw, for further amusement, note how this ad uses an attractive picture of Hillary. Usually, of course, the assholes using images of Hillary as part of their sexist editorials against her deliberately choose the most unflattering photos they can find. But because this is
an Axe ad
, it can't feature an ugly chick—so Hillary gets finally gets to look good, only to be demeaned in another way. Awesome.
[Parts
One
,
Two
,
Three
,
Four
,
Five
,
Six
,
Seven
,
Eight
,
Nine
,
Ten
,
Eleven
,
Twelve
,
Thirteen
,
Fourteen
,
Fifteen
,
Sixteen
,
Seventeen
,
Eighteen
.]