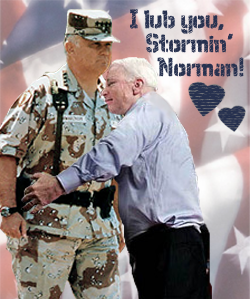 McCain
picks up a hot endorsement
from Stormin' Norman, shoring up his relevance in the modern era:
One of Florida's most famous military men, General H. Norman Schwarzkopf, has put his weight behind Sen. John McCain's bid for the presidency today.

"Stormin' Norman" Schwarzkopf, a retired four-star general who was commander of the Coalition Forces in the 1991 Gulf War, became well known to most Americans with his daily, televised press conferences describing the course of the war. As the co-author of the plan for Operation Desert Storm, Schwarzkopf's strategy was so successful that the ground war concluded in just four days.

"Sen. John McCain has served our country with honor in war and in peace," Schwarzkopf said in a statement. "He has demonstrated the type of leadership our country sorely needs at this time. For that reason, he has my complete support."
Scwartzkopf is part of a long list of retired military men to lend their names to the McCain effort, including Gen. George S. Patton, Gen. Robert E. Lee, Empereur des Français Napoléon Bonaparte, and Genghis Khan, alongside whom McCain fought in the Battle of the Kalka River, 1223AD.