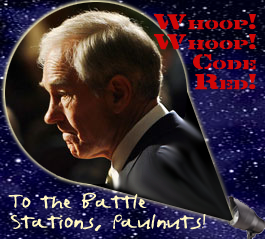 I just can't understand why people
keep
saying
that Ron Paul has unseemly ties to the white supremacist movement. I mean, so what if he wants to
keep a donation
from Don Black, proprietor of the Stormfront White Nationalist Community website, bearing the motto White Pride World Wide? Big deal.
"Dr. Paul stands for freedom, peace, prosperity and inalienable rights. If someone with small ideologies happens to contribute money to Ron, thinking he can influence Ron in any way, he's wasted his money," Paul spokesman Jesse Benton said. "Ron is going to take the money and try to spread the message of freedom."
Yeah! He just wants to spread his message of freedom—which includes negating
Roe v. Wade
, preventing same-sex couples from marrying, ending birthright citizenship, abolishing free basic education, and undermining multiculturalism, just for a start.
And I'm quite certain if Hillary received a donation from a white supremacist, Ron Paul's supporters would defend her right to keep it and use it to spread her ideas of freedom, too!