Despite Chris Matthews'
insistence
that Mike Huckabee looks like Kevin Spacey (via
Wonkette
, with the photographic evidence), I honestly don't see how anyone can look at the guy and not think "Gomer Pyle." He's a Jim Nabors doppelganger, I tells ya.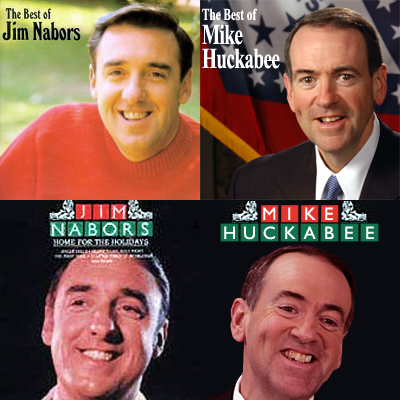 See?
Of course, while Nabors sang songs like "My Woman, My Woman, My Wife" and "Amazing Grace," Huckabee's greatest hits include "
My Woman, My Incubator, My Forced Birth Machine
" and "
Ignorant Bigotry
."
Anyway, I will take this as just more evidence that Chris Matthews doesn't know what the fuck he's talking about.
(The post title, of course, references yet another
movie line I quote
pretty often: "What is your major malfunction, [Private Pyle]?! Didn't Mommy and Daddy show you enough attention when you were a child?!" from
Full Metal Jacket
.)