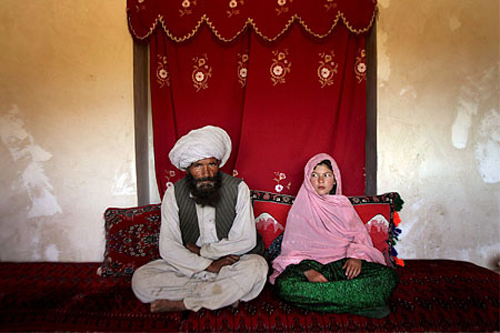 This image
, taken by US photographer Stephanie Sinclair in Afghanistan, has been named Unicef Photo of the Year. Pictured are Mohammed, 40, and his new 11-year-old wife, Ghulam.
The terror in that little girl's eyes breaks my heart into a thousand pieces—especially because we are meant to have freed her; we are meant to have given her a better life.
"In the last two-and-a-half years, we have seen remarkable and hopeful development in world history. Just think about it: More than 50 million men, women and children have been liberated from two of the most brutal tyrannies on earth—50 million people are free. All these people are now learning the blessings of freedom."
—
President George Bush
, claiming victory over tyranny on behalf of women at a White House Celebration of International Women's Day, March 12, 2004.
According to Unicef, about 60 million girls around the world are married while still children. The blessings of freedom.
[H/T to Shaker Leigh.]