Same as the Old Pro-Torture Boss: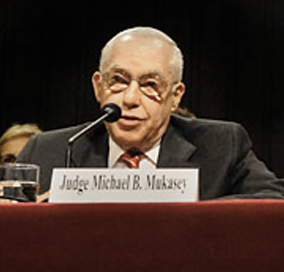 Senate Confirms Mukasey By 53-40
:
A divided Senate narrowly confirmed former federal judge Michael B. Mukasey last night as the 81st attorney general, giving the nominee the lowest level of congressional support of any Justice Department leader in the past half-century.

The 53 to 40 vote came after more than four hours of impassioned floor debate, and it reflected an effort by Democrats to register their displeasure with Bush administration policies on torture and the boundaries of presidential power.

...He avoided defeat only because a half-dozen Democrats voted in favor of the appointment along with Republicans and Democrat-turned-independent Joseph I. Lieberman.
Wev.