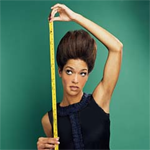 Angelos
sent me the link to
this post
about, as he aptly described it, faux-medical vagina 'fixing.' Now, we ladies can measure ourselves (be sure to use your
special pink lady tools
!) to see if our vaginas "measure up" to the
best
vaginas, since "All women want to be pretty, tight and small down there!" And, of course, if we
don't
"measure up," there are surgical procedures available to make sure we do!
I could write a whole post about the beauty standard totally getting out of control and how it's a bloody miracle that there's a woman left in America with a shred of self-esteem, when we've even got to be worried about whether our
vaginas
are pretty and shapely and perfect enough. But, honestly, if there's anyone reading this blog who doesn't intuitively get all that, I don't think I have the capacity or wherewithal to sort them out.
So, I'll just repeat here what I said to Angelos about it—"You'll be totally unsurprised, I'm sure, to hear that my position on the whole thing is:
If you've got a problem with my cunt, you don't need to be fucking it.
"
That makes things pretty simple.
---------------------
Btw, in case it isn't clear, I'm only talking about vanity procedures. I know some women have real medical issues that need fixing, and I'm not lumping those in here.