McCain
compares himself to Reagan; declares we're winning in Iraq; preemptively blames defeatists for the losing we're not doing; introduces press corps to his pet unicorn Stinky: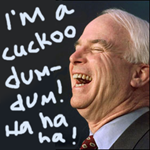 Sen. John McCain told supporters in South Carolina on Monday that if elected president he would lead America out of its "tough times" in the same way President Ronald Reagan did in the 1980s.

…McCain declared — as he does at most campaign stops — that "we are winning" in Iraq. He invoked Reagan's trademark optimism and said he would refuse to let the war efforts in Iraq succumb to domestic discontent, as was the case with the war in Vietnam. … "We lost it not because of our courage and bravery on the battlefield. It was because they won the war in the United States."

…Our best days are ahead of us," he said. "America is the greatest nation in the world. I am asking for your support in order to lead it."
McCain then introduced his pet unicorn—which appeared to be invisible, likely nonexistent—and gave him a warm hug.
Seriously, is he still running?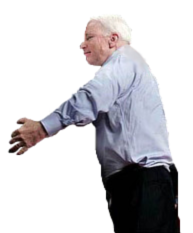 This is my unicorn, Stinky—and I lurrrve him.