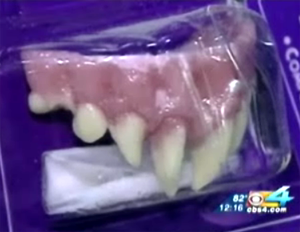 The government has
announced
an 11th hour recall of $2 Chinese-made "ugly teeth" after a chemistry professor at Ohio's Ashland University tipped off CBS News to the exorbitant lead levels. CBS broadcast the story Monday; the Consumer Product Safety Commission, which knew about the danger
last week
, announced the recall this morning.
[The commission's acting head Nancy Nord] said the possible danger was not brought to the agency's attention until late last week. She said the commission then worked quickly to assess the problem and issue an announcement.

…Amscan Inc. of Elmsford, N.Y., imported the fake teeth.

…Millions of Chinese-made toys have been recalled in recent months. House Speaker Nancy Pelosi, D-Calif., this week urged the commission's head, Nancy Nord, to resign. Pelosi said Nord has failed to see the gravity of the situation and continues to oppose legislation that would double her agency's dollars and give it more authority.

Nord said Wednesday she has no intention of resigning.
Fucking honestly! Typical Bush administration bullshit.
Grumble grumble.
In any case, make sure your kids aren't sucking on those fake choppers, Shakers.