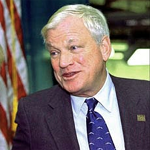 If you don't know anything about
Richard Mellon Scaife
, the best way I can describe him to you in short order is that he is to conservative funding the way Karl Rove is to conservative strategy. Another way to understand him is to look at all the batshit crazy conspiracy rubbish the rightwingers constantly blather about George Soros, then remember that they are masters of projection, and realize they're really talking about their über-moneyman, Scaife.
A "
cantankerous, reclusive 75-year-old billionaire
" who is "best known for funding efforts to smear then-President Clinton," the twice-married Scaife has "given in excess of $300 million to right-learning activists, watchdogs, and think tanks" including "the family-values-focused Heritage Foundation, which has published papers with titles such as
Restoring a Culture of Marriage
."
Now
his
second marriage is coming to a bitter, gloriously ugly end—and it really just couldn't happen to a nicer guy. And check this out:
Three words, people.

No. Pre. Nup.
Oh. Mah. Gawd.
Unfathomable but true, when Scaife (rhymes with safe) married his second wife, Margaret "Ritchie" Scaife, in 1991, he neglected to wall off a fortune that Forbes recently valued at $1.3 billion. This, to understate matters, is likely going to cost him, big time. As part of a temporary settlement, 60-year-old Ritchie Scaife is currently cashing an alimony check that at first glance will look like a typo: $725,000 a month. Or about $24,000 a day, seven days a week. As Richard Scaife's exasperated lawyers put it in a filing, "The temporary order produces an amount so large that just the income from it, invested at 5 percent, is greater each year than the salary of the President of the United States."
And what could have prompted this grand severance in the first place?


At some point in late 2005, Ritchie started having suspicions about her husband and hired a private investigator named Keith Scannell, a specialist in high-end surveillance for insurance companies. In December of that year, Scannell followed Richard Scaife to nearby North Huntingdon, home of Doug's Motel, a place where the TVs are bolted to the furniture and rooms can be rented in three-hour increments, for $28. (It's now under new management and renamed the Huntingdon Inn. Head east on Route 8, then east on Route 30.) There, according to Scannell, Scaife spent a few hours with Tammy Sue Vasco.

Why a billionaire would shack up at Doug's Motel, of all places, is a mystery. Ditto his choice of companions. Vasco is a tall, blond 43-year-old mother who in 1993 was busted in a sting operation after showing up at a Sheraton hotel and offering to have sex with an undercover cop for $225, the Post-Gazette reported.

Social Register material she is not, but Vasco and Scaife seemed to have a relationship that went beyond the purely professional. The two usually met each other twice a week, for months, at the motel, says an employee of the motel. Scaife would show up in a chauffeured car, dressed in a suit, wearing cuff links, always bearing flowers. Vasco would be waiting in same room every time, Room 5 on the ground floor, facing the parking lot, said the employee. Mr. Dick, as he was known at the motel, would stay for two hours or so, then get back in the car, which had been waiting, and leave.
Ahh, romance!

Well, I have one bit of advice for the erstwhile Mrs. Scaife: People will tell you, dear, that living well is the best revenge, and indeed it is—although giving a couple hundred million to the Center for American Progress would be a nice touch, too.