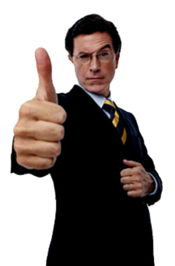 Since announcing his candidacy for president last week, Stephen Colbert is already
polling higher
than Bill Richardson, Dennis Kucinich, and Mike Gravel:
The Public Opinion Strategies poll this past weekend of 1,000 likely primary voters that included Colbert's name -- as both a Democrat and Republican, as he wishes --- found him drawing 2.3 percent in the Dem race nationally (though he is threatening to run only in his native South Carolina).

This put his ahead of Richardson (2.1 percent), Rep. Dennis Kucininch (2.1) and, of course, Sen. Mike Gravel. And he trails Sen. Biden by just a tad (he's at 2.7 percent).

Of course he has a long way to go to catch up with the three frontrunners (you know who they are).

But Colbert fares less well among his natural constituency on the GOP side, where he draws less than one percent.
LOL! That guy's a freaking hoot.
For old time's sake, let's watch Stephen eviscerate the president—
wheeeeeeeeeeeeeeeee!


Part Two – Part Three