I don't know shit about comic books, but via
Joy Nash
and
a really terrific post by Noah Brand
, I have just fallen in love with Wonder Woman's sidekick Etta Candy.
The
original
version of her, that is. The one who looks like this: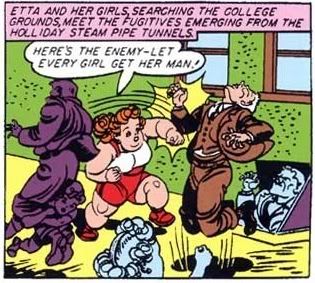 That Etta was drawn by William Moulton Marston; Brand has this to say about the Marston Etta:

Let's take a moment to look at her body and her attitude about it. Etta is short, and she's fat. Not a little plump, not fake Hollywood Janeane-Garofalo faux-fat, actually fat. And she's surrounded by all these girls who are a clear foot taller than her, with figures like Wonder Woman's. Does Etta look embarrassed to you? Does she look self-conscious, ashamed, any of the things a girl who looks like her is expected to be? Hell no. And it's not just those five panels; go over every page Etta's ever appeared on, and look for a single moment when she apologizes for or is ashamed of how she looks. You won't find one. While you're at it, find me another female character with the same body and the same attitude about it. Check the 40s, check the present. No, go ahead, keep checking. I'll wait.

See? You're in love with her now, too, right? (Also, you're a little in love with Noah Brand, aren't you? Me too.)

But check this shit out. Brand intrigued me with this tidbit at the end of the article:

Etta's mostly forgotten now, retconned out decades ago as too silly and fat, retooled as a military officer with a couple extra pounds, made safe and acceptable and nonthreatening.

So I made with the Google. This is the new Etta: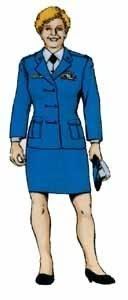 ARE YOU FUCKING KIDDING ME?

Wait, it gets better. According to Wikipedia,

Etta Candy was revived in the early 1980s, when Steve Trevor and General Phil Darnell were also revived. Etta was featured as secretary to Darnell, and Diana's roommate. Unlike the Marston characterization of a bold, sassy, wisecracking sorority leader, Etta was now presented as meek and insecure. She was weight-conscious, and shared an apartment with Diana Prince, unaware of her secret identity.

Emphasis mine.

And I thought America Ferrera on the cover of Glamour was bad.