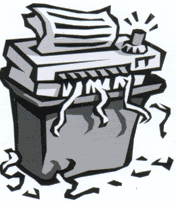 Shocker of the week:
Cheney hates paper trails
.
"I learned early on that if you don't want your memos to get you in trouble some day, just don't write any."
Heckuva lesson, Dickie.
I have to say that I am really curious as to what he would be writing in those memos. From the sounds of it, my guess is that all of them would contain enough evidence to throw him in the slammer for consecutive sentences.