I spent yesterday afternoon in the sun. It left my face bright red with a burn, because I am a pale and sun-avoiding sort. Usually when I'm getting crispy, I move into the shade, but yesterday, I didn't even notice my sizzling skin, because yesterday, I was sitting in the first row at Soldier Field, directly behind what was Brazil's goal in the first half, and USA's in the second.
Yesterday, with Mr. Shakes and my girlfriend Miller (who organized the day) and her Portuguese teacher and two dozen other people, including Brazilians, Americans, Europeans, and one Argentine, I watched, from twenty yards away, Ronaldinho launch a corner kick just inside the far post.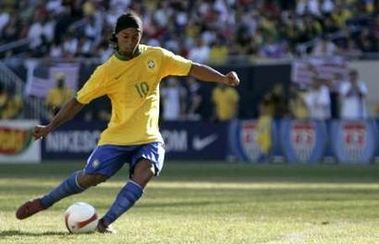 OMFG: Ronaldinho!
The USA-Brazil exhibition game—dubbed "Clash of the Champions" despite Brazil's #1 world ranking and USA's #17—was won by Brazil, 4-2, which was unexpected only insomuch as USA managed to score two goals off the dominating Brazilians. But Team USA didn't embarrass themselves in the least; they did extremely well going up against the titans of
jogo bonito
. As Mr. Shakes said when Team USA scored the first goal of the match, "Woo! The Yanks shooed oop to
fookin' play
!"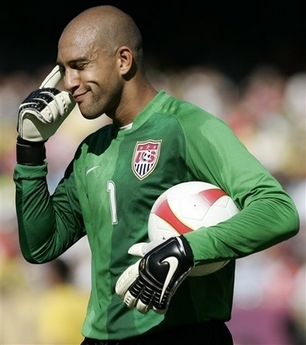 USA goalkeeper Tim Howard, who sustained a dislocated finger
going after a Ronaldinho free kick, but stayed in the game.


Football is still a young sport in America, where it's still called soccer to the chagrin of its fans from just about everywhere else. The American team is still in its infancy compared to Brazil, whose Ronaldhino, Kaka, Robinho, and Afonso move the ball up and down the pitch with fluid perfection, knowing so flawlessly at every moment where the ball is and where it will be in the next moment that it seems coded into their very DNA. They are light years ahead; Team Brazil are the aliens from a distant galaxy who have already perfected travel among the stars, come to share their advanced knowledge with the Earthlings. It was a thing to behold. It took my breath away. We were close enough to see Ronaldhino's warm, crooked grin.

Someone from our group didn't show up; I don't know who. We ended up with an empty seat in our row, and we all shoved over one, leaving an empty seat between me and the aisle. Halfway through the first half, there was a small voice beside me asking if anyone was sitting there. It was a boy of maybe 10, holding to his chest a Ronaldhino banner. "I can't see from where I'm sitting," he said. I told him to take the seat. "It was mine," I told him, "so you'll be fine there." Slowly, his younger brother and three more little boys—cousins, I think—joined him, four of them in yellow Brasil jerseys and one in a red Team America t-shirt. They all squeezed into the single seat, and unfurled their banner and yelled for their hero. "Is he your favorite?" I asked them. They looked at me with wide, solemn eyes and nodded. I was told he was the best in the world, and I didn't disagree.