In her latest attempt to mislead, due to either laziness or just plain evil, Ann got carried away in her diatribe and fucked up again. While screaming about the evil lawyers (*cough*John Edwards*cough*) going after doctors, she notes that doctors, like her old college roommate, do more good in the world due to organizations like "Doctors Without Borders," subsequently claiming that no such organization like "Lawyers Without Borders" exists. Perhaps the organization doesn't exist in Doulterville, but it sure does
in the real world
.
Lawyers Without Borders bills itself as "the world's largest group of volunteer lawyers from around the globe who stand ready to offer pro bono service to worldwide projects and initiatives."

[...]

Lawyers Without Borders, which is headquartered in the U.S., is not related to Avocats sans Frontieres (AsF), which in translation means also "lawyers without borders."

So actually, there is not one organization named Lawyers Without Borders: there are two.
Swing and a miss! (Sa-wingggg batta). But perhaps the most heinous lie that she propagated would be this gem:
She was going to Johns Hopkins for yet more medical training while I was skiing and following the Grateful Dead.
There is simply no fucking way that this woman actually listened to the Dead. Abso-fucking-lutely not. I mean, listen to her. That's no Dead-head. Never was, and never will be. Next thing you know, she'll be writing an article in November about how Led Zeppelin flew her in specially for the reunion concert so they could hang out with her.

That's right, Ann. Keep on spewing your bullshit for all to enjoy.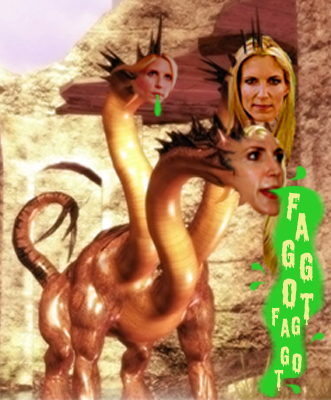 Spew, hydra, spew! Good hydra.

[

Of course that's Liss' graphic. What were you thinking?

]