Talk about your breaking fucking news: Fred Thompson finally officially
announced
he's running for president on
The Tonight Show
last night. Here's the less-than-two-minute clip uploaded to YouTube by NBC, which, lucky us, includes the tired ethnic and sad gay joke that have collectively become the hallmark of Jay Leno's "comedy."
Thompson also aired a "pre-announcement" commercial yesterday, with lots of his signature head-bobbing to [bob] punctuate the [bob] important [bob] words. It is truly a
terrible
spot, which
Petulant
hilariously described in an email to me as "some cheap ass windows movie maker ad... I MEAN CHEAP LOOKING. ARGHHH!" Totally.
I would provide a transcript, except I keep falling asleep every time I try to provide one. So here's a paraphrase: "Blah blah [head bob] blah blah blah [head bob] blah blah blah [head bob] blah blah—" zzzzzzzzzzzzzzzzzzzzzzz. OMG, see? I can't even paraphrase it without practically falling into a coma.
Meanwhile, the collection of nincompoops collected in New Hampshire on the Lite-Brite Stage of the Damned for their latest debate were generally unpleased with Thompson's decision to hang out with his cool celebrity friends like Jay Leno instead of them.





(Transcript here; the bit about
Thompson is right at the beginning.)


I dig the Playboy centerfold stats that Fox decided to give the candidates, btw.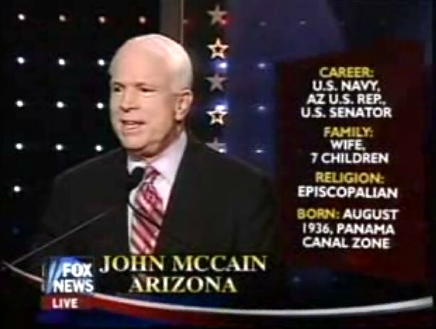 Turn-Ons: George Bush, DADT, South Dakota, Monkeys, The Federalist Society, Jerry Falwell, James Dobson, Basketball, Rudy Giuliani, John Kerry, and The Donkey.

Turn-Offs: Ethics Bills, Losers, Bad Ideas.

Anyway, as regards the rest of the debate, it was so horrendous, I couldn't even watch it. Mr. Shakes declared he'd "prefer to be booted in the balls than watch a fooking second oof thoose wankers," so we watched Top Chef instead.

If you're looking for some hott commentary, especially of the rightwing persuasion, on the debate, however, there's plenty to be had at Memeorandum.