Imus Settles With CBS, May Make Comeback
: "Don Imus has reached a settlement with CBS over his multimillion-dollar contract and is negotiating to resume his broadcasting career. … Imus is talking to WABC-AM and other stations about making a possible comeback, a person familiar with the talks told The Associated Press."
Might that "person familiar with the talks" by any chance be an enormous douchehound in a cowboy hat with a pen up his nose?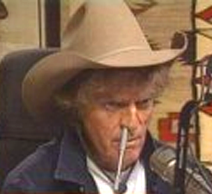 Just checking.