Fucking hell
: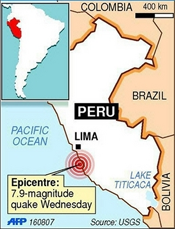 The death toll from a powerful earthquake rose to at least 337 Thursday, a day after the magnitude-7.9 temblor shook Peru's coast, toppled buildings and shattered roads, officials said.

More than 827 people were reported injured and the Red Cross said the toll was expected to rise.

Rescue workers struggled to reach the center of the destruction, the port city of Pisco about 125 miles southeast of the capital, Lima. Pisco's mayor said at least 200 people were buried in the rubble of a church where they had been attending a service.

"The dead are scattered by the dozens on the streets," Mayor Juan Mendoza told Lima radio station CPN.

"We don't have lights, water, communications. Most houses have fallen, churches, stores, hotels, everything is destroyed," he said, sobbing.
The quake was caused when one of two plates atop which the region sits made a "sudden shift" underneath the other, which was the same cause of the 2004 tsunami.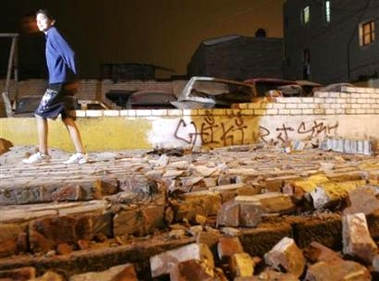 A man walks over the debris from a damaged wall in Lima's
port of Callao. (Enrique Castro Mendivil/Reuters)
It doesn't appear that President Bush has yet made any statement or an announcement of relief/aid from the US. I'll post an update if/when I find one or one is made.