So,
Bluegal
found
this story
about Amy Winehouse's
heroin
cocaine
exercise addiction, which has resulted in a dramatic weight loss: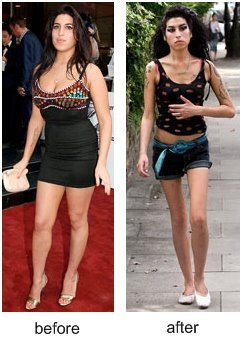 The interesting thing about the story is, despite calling the exercise routine "aggressive" and "alarming," they sure do spend a lot of time talking about
how she does it
.
"Amy will do a full cardio, fat-burning workout followed by lots of repetitions, on a relatively light load, on the weights machines. As her body has become transformed, the more weight she's lost, and the more obsessed she has become."

Miss Winehouse's new size 6 physique - down from a well-proportioned 14* - is largely the result of a daily exercise programme carried out at the Fitness First women's only gym in north London's Chalk Farm.

After an initial free consultation with a personal trainer, the singer - whose debut album, Frank, sold over 250,000 copies and won the 2004 Mercury Prize - has amazed staff with her dedication.

Despite being advised to have at least one "rest day" a week, she visits the gym daily, usually going between four and six in the afternoon.

Following a strenuous workout, Miss Winehouse walks the 25 minute journey home, where she showers and changes, before often taking yet another stroll around Camden market.
Yeah, another name for that is "
anorexia athletica
," but they never mention that part. Or the
"heroin, ecstasy, cocaine, ketamine and booze" part. (Yes, despite her big hit, Amy Winehouse went to rehab.) I can see them ignoring the latter for fear of being sued, but what was the point of publishing this story about her "alarming," "neurotic," weight loss routine, if they were going to ultimately make it sound so much like a garden variety "How the stars stay slim!" article from any given women's magazine? I mean, you

know

those pictures are going to end up in Pro-Ana communities -- how convenient that the article offers a handy blueprint for anorexic behavior along with them!
From the sound of things, Amy Winehouse is terribly ill, in more than one way. And articles like this, that make vague pretensions to concern for her "health" but are ultimately just trying to hit two fishwrap-selling birds -- gawking at a freakish-looking body and documenting celebrity weight loss -- with one stone, do not fucking help. They don't help her, and they definitely don't help her young fans.

Same goes for the people who keep giving Courtney Love a platform to talk about how she only eats macrobiotic seaweed or only eats donuts, depending on what day it is. Guess what, kids -- it doesn't matter what you eat IF YOU DO ENOUGH DRUGS.

But informing the public about the "exercise" and "diet" regimes that keep the stars thin is important journalism, of course. Because we all know being fat is unhealthy.

*These are UK sizes, which translate to US sizes as "skeletal" and "quite small," respectively. Amy Winehouse was never a current US 14 any more than Marilyn Monroe was.
P.S. I know The Daily Mail is not known for its journalistic integrity. That doesn't make these articles any less problematic.