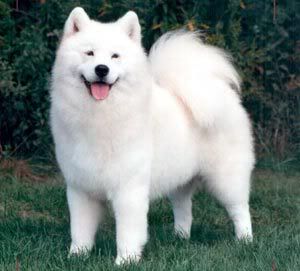 The Preznit
on Tony Blair
:
"I've heard he's been called Bush's poodle. He's bigger than that."
Based on the working assumption that we're dealing with a toy poodle, I thought a Samoyed would work since it's definitely bigger than a poodle. I especially like this bit of info on the breed from the
Westminster Kennel Club site
:
The Samoyed, a working dog,

is happiest when he has a job, even if it is just bringing in the daily paper

.
What other breeds (bigger than a poodle) do you think would be appropriate?
[H/T to
ThinkProgress
]