Which Western feminist icon are you?


You are Angela Davis! You were the THIRD WOMYN
IN HISTORY to appear on the FBI's Most Wanted
List. You are a communinist, black power-lovin'
lady who shook up the United States when you
refused to lie down quietly to oppression. You
WENT TO JAIL! Wow. You kick so much more ass
than Foxxy Brown.



Take this

quiz

.



-------------------

Fucking awesome. I love Angela Davis!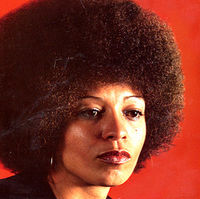 "Progressive art can assist people to learn not only about the objective forces at work in the society in which they live, but also about the intensely social character of their interior lives. Ultimately, it can propel people toward social emancipation."
[Via
TigTog
.]