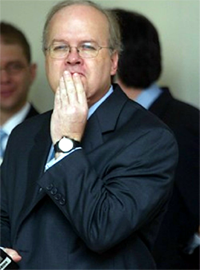 NYT:
Rove Is Linked to Early Query Over Dismissals
/ WaPo (AP):
E-Mail Indicates Rove Role in Firings
/ Chicago Tribune:
E-mails: Rove knew of mass firings plan
/ LA Times:
Rove may have had role in firings
/ USA Today:
Rove e-mails on attorneys raise questions
/ Financial Times:
E-mails 'implicate Rove' in sackings
/ Bloomberg:
Rove Tied More Closely to Firings as Gonzales Support Fades
/ CNN:
Rove, Gonzales discussed firings, e-mails show
/ ABC:
E-Mails Show Rove's Role in U.S. Attorney Firings
/ NBC Nightly News: The prosecutor purge: Did the idea of firing all U.S. Attorneys start with inner circle adviser Karl Rove? (asked on last night's broadcast) / CBS:
E-Mails Highlight Rove's Role In Firings
/ Fox:
E-Mails Discuss Karl Rove's Role in U.S. Attorney Firings
Et cetera…et cetera…et cetera. And I don't suppose I need to remind anyone that his dirty little paw prints have been all over every scandal to emanate from this scandal-plagued White House for the last six years.
And yet still no one calls for Rove's resignation. Still no one demands that Bush fire him. Gonzales, yes. Rove, no.
According to Chuck Schumer
, there is "an active and avid discussion in the White House whether [Gonzales] should stay or not," which is good—but when are the Dems, the media, and the rest of us going to start raising hell about Karl Rove's continued employment? I don't know about you, but I'm sick to the teeth of that lump of shit getting paid with my tax dollars to break the law.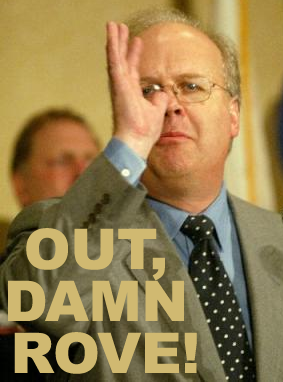 PASS IT ON.
(Thanks to Shaker Amish451 for the first image.)