Last month it was
Mary on a pizza pan
, and now
Jesus is making an appearance
on a baking sheet:
The Lord is said to work in mysterious ways — and for Aaron Frazer, the mystery intensified seven days ago while he was roasting peppers at his own work at Cowboy Coffee on Victoria Street.

It was then — last Friday around noon — that the 28-year-old cook first witnessed what he claims is a relief of Jesus Christ, etched out roughly on a baking sheet by the burnt run-off from roasting red peppers.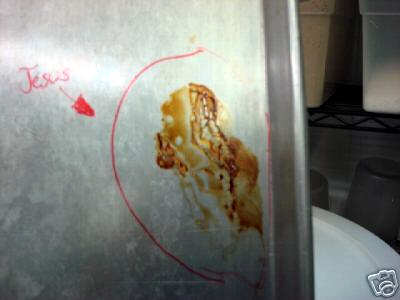 I like people who save me the work of making captions.

And at least he's honest about his motives.
Spurred by the tale of a Florida woman who four years ago sold for $28,000 a half-eaten grilled cheese sandwich that had (apparently) the face of the Virgin Mary burnt into it, Frazer got to believing he could turn his own little miracle into a small fortune.

Shortly after the discovery, Frazer had the baking sheet posted for sale on eBay, where he is hoping it will pocket him a sizeable purse.

…"I haven't checked it recently, but the last time I did there was one hit and it was from Kyle (his co-worker)," Frazer said, adding his boss has been supportive of his ambitions.

"[I'm hoping] for as much as possible and maybe a movie deal."
He might want to shoot a little lower, considering Baked Jesus has
zero bids so far
.
Holy folks Gone Wild on
pizza pans
,
doggy doors
,
ice
,
peanuts
,
x-rays
,
turtles
,
ultrasounds
,
chocolate
,
dying plants
,
sheet metal
,
trees
,
more trees
,
more trees
,
more trees
,
more trees
,
wardrobes
,
water stains
,
grilled cheese sandwiches
,
potato chips
,
plates of pasta
,
drywall
,
fish
, and
more fish
. H/T
Spin Dentist
.