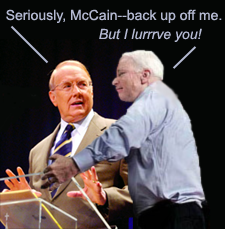 Oy.
"Sen. John McCain said Tuesday he hopes to patch things up with conservative Christian leader James Dobson, who recently said he wouldn't support the Republican's presidential bid under any circumstances. In a radio interview with KCBI, a Dallas Christian station, Dobson argued that McCain didn't support traditional marriage values and said he has prayed 'we won't get stuck with him'."
McCain then went on—seriously—to point out that other kids will play with him! "I'm happy to say that I've established a dialogue with a number of other leaders." Like, Jerry "
Agent of Intolerance
" Falwell, who totally didn't choose him last in gym class, and Rick "
Purpose Driven Life
" Warren, who only took his lunch money once, and Dr. Richard "Dickland" Land, who throws the dodgeball at McCain's face instead of his groin.
I'm actually not certain if there's anyone on the planet who dislikes John McCain more than I do, and even
I'm
starting to cringe at his excruciating attempts to get in with the Kool Khrist Kids. Yeesh.