It was enough that
I loved the new Bond film
, but I am seriously loving
the new Bond
, too:
Daniel Craig is urging movie bosses to revolutionize the James Bond franchise by including a gay scene involving the superspy in the follow-up to Casino Royale.

The heart-throb actor has also reportedly told studio chiefs he is prepared to film a full frontal nude scene to please both his male and female admirers.

He says, "Why not? I think in this day and age, fans would have accepted it."

"I mean, look at (British TV series) Doctor Who - that has had gay scenes in it and no one blinks an eye."
Jaw, meet floor. Every waking hour I dream of a day when people treat with such bemused indifference the antiquated conventions and mores rooted in homophobia and sexism, and yet the last thing I expect is that someone in Craig's position will actually do it. It's just so damn…thrilling!
Old Bond
: Slap that bitch up. New Bond: Mix it the fuck up. I like it.
As an aside, Craig has done full frontal before, which I discovered while Googling for images for my
CR
review, and I'll just say there's a reason he's not shy about doing a nude scene.
I had also found this image of a tabloid spread, which has
the
most hilarious headline of all time: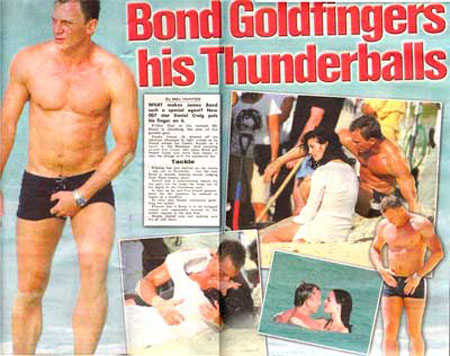 I actually called Mr. Shakes out of bed to come see it, knowing he'd laugh his tits off—which he did.
(Story via
Pam
.)