Today is a good day because it one of those beautiful, crisp, sunny autumn days where the breeze coming in the window is cool and smells of burning leaves on distant lawns. And it's a good day because I'm going to be spending time this evening with one Mr. Paul the Spud, whose charm and wit and profound decency, as evidenced within the pages of this blog, make richer the lives of everyone who knows him. And it's a good day because today I got tickets to see Morrissey at the Aragon Ballroom, which is not only one of my favorite venues in the city, but also the very first place I ever saw him perform.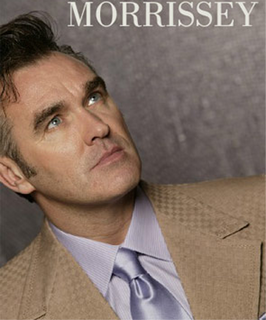 We'll be together again soon, darling.
You may not realize that this makes it a good day for you, too. But it does. Because had I not gotten these tickets, there would have been hell to pay across the land. I would have sent plagues of locusts. I would have turned rivers into blood. I would have killed the firstborn of every family in America—except my parents', which would have meant suicide. Although, if I hadn't gotten tickets, that may have been in the cards, too.
Okay, maybe not. But I would have been
really
fucked off.
All devastation has, however, been averted. And my record of having not missed a single Morrissey show in Chicago for 15 years remains unbroken.