I was tagged by Polly at
Marginal Notes
to share Five Things Feminism Has Done for Me, with the hope that feminist bloggers in America can run with it as they have
in Canada
in response to the Canadian federal government's funding cuts to Status of Women Canada. (Seriously, that's quite a round-up! Well done, Canadian Progressives!) Here goes…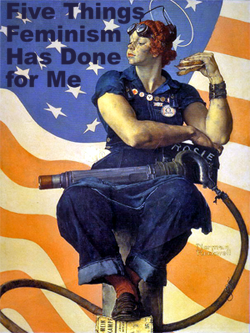 1. Feminism has created the world in which I live. Without feminism, and the diligent determination of women who organized before feminism even had its name, I wouldn't have the right to vote, to own property, to go to school, to have nearly any job I wanted, to control my own reproduction, to initiate a divorce, to join the military, to run for public office, and a whole lot of other stuff that many of us now take for granted. I was born into a world which feminism had already changed to my benefit. I am one of the women for whom previous generations of feminists have endeavored to provide opportunities they didn't have, and I am grateful every day of my life that they made the sacrifices they did, that they did the hard work of trailblazing, so that my life could be that much fuller.
2. Feminism has given me a framework and a community on which I depend to support my intrinsic feelings regarding inequality, both on my own behalf and on behalf of others. Reading something like Rosemarie Tong's
Feminist Thought
, and discussing it with other women and men, made inevitable the connection between the principles of feminism and a larger struggle for egalitarianism.
3. Feminism has made me less judgmental. In seeking to legitimize a variety of choices—acknowledging that being a working single woman is just as viable a choice as being a stay-at-home mom, for example, and concerning itself with the details of ensuring that each of those choices present opportunities for, rather than restrictions on, women's individual development and life experiences—feminism has left me better prepared to respect the choices of others. From choices of vocation, to body modification, to positions on marriage and sex acts, I am all about letting one's freak flag fly—and I honestly believe that if we could all stick my favorite phrase,
my rights end where yours begin
, there would be room for every last freak flag in America to yet wave o'er the land of the free and the home of the brave. (On the flipside, feminism has made me more conscious of language, imagery, behaviors that seek to perpetuate oppression in both overt and subtle ways.)
4. Feminism has given me the permission and ability to define who I am on my own terms. I am not who society wants me to be; I am not who my husband wants me to be; I am not who my family want me to be; I am not who my friends want me to be. I am who I want me to be. That I may get approval from society, Mr. Shakes, my family, my friends, employers, Shakers, strangers, or anyone else based on Who I Am is incidental—and extremely fortunate when it happens. That's not to suggest that none of the above ever influence me, or
affect
me, or tell me I'm being an asshole about something and are totally right, so I stop. What it means is that I don't feel obliged by anyone to be anything other than Who I Am—deliberately childless,
queer-brained
,
fond of video games
,
short and round and bouncing on the ground
, and all the rest. Feminism tells us we don't have to conform to anyone's expectations but our own.
5. Feminism gives me hope.
Long way to go
, we sigh, often. Less frequently,
We've come a long way, baby
—but we have. Our history proves that progress is possible, and sometimes that reminder is the only thing that keeps me going. And not just on feminist issues.
Now I'm meant to tag five people—and I'm going to try to make it a variety. As the Canadian list indicates, it's not just feminist women who have run with this meme.
1.
Amanda
2.
Zuzu
3.
Brynn
4.
Konagod
5.
Pam
If anyone else picks it up and runs with it (
JackGoff
?
Minstrel Boy
?
RedSonja
?
Kathy
? any of the other hundred people I want to tag?), drop me a note in comments!