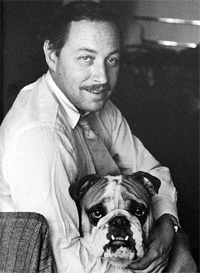 I was invited to hold a symposium with Yale drama students. The symposium was arranged by the genial head of the Department of Theatre Arts at Yale. I found myself entering (through a door marked EXIT) an auditorium considerably smaller than the Shubert but containing a more than proportionately small audience. I would say roughly about twoscore and ten, not including a large black dog which was resting in the lap of a male student in the front row. My own position was in a folding chair behind a folding table on which was set a tumbler of what appeared to be plain water and which I immediately discovered to be just that. Furthermore, the young faces before me were uniformly inexpressive of any kind of emotional reaction to my entrance through that side door marked EXIT. In fact, the only face that betrayed a real interest was that of the dog.

I am not much good at disguising my feelings, and after a few moments I abandoned all pretense of feeling less dejection than I felt. I was talking. I was making these tired old jokes that come off like the destitute man's Bob Hopeless at an encampment in some failed war. I found myself sinking lower in the folding chair, and that slumped position, combined with fits of wheezing, sniffling, and coughing, encouraged some of the small assemblage to get up and walk out on me, a thing that stirred in my heart no sense of the favorably providential. Still I continued to hear myself talking but no longer telling old jokes. I heard myself describing an encounter, then quite recent, with a fellow playwright in the Oak Room Bar at Manhattan's Plaza Hotel. I told them that this encounter had been inadvertent on both his part and mine, but since he happened to be my old friend Gore Vidal, I had embraced him warmly. However, Mr. Vidal is not a gentleman to be disarmed by a cordial embrace, and when, in response to his perfunctory inquiries about the progress of rehearsals of Out Cry I told him that its two performers, Michael York and Cara Duff-MacCormick, and the director, Peter Glenville, and the producer, David Merrick, all seemed a dream come true after many precedent nightmares, he smiled at me with a sort of rueful benevolence and said, "Well, Bird, it won't do much good, I'm afraid, you've had too much bad personal exposure for anything to help you anymore."

Well, then, for the first time, I could see a flicker of interest in the young faces before me. It may have been the magic word Vidal or it may have been his prophecy of my professional doom. At any rate, a young lady student of drama in the diminished group stood up to ask me if I regarded Gore's assessment of my present situation in my profession here in the States as a reliable one.

I looked at her in silence for a moment while wondering if I did so regard it, and I came to no conclusion about the question.

My eyes drifted from her face to that of the young man in the front row with the big black dog in his lap.

Laughter has always been my substitute for lamentation and I laugh as loudly as I would lament if I hadn't discovered a useful substitute for weeping. Usually I laugh longer than I should, as well as more loudly than I should. This time I cut short my travesty of mirth and said to the young lady, "Ask the dog."
(From Tennessee Williams'
Memoirs
, which I'm currently re-reading. My copy is a hardcover British first edition from 1976 that I picked up in a musty London bookshop for £3.50, which I adore, but
a new edition
in paperback is now available for pre-order, with an introduction by the splendid John Waters. I'll have to get that, too, someday.)