Discussing Joe Scarborough's
faint praise
of President Bush—"I spent a few hours alone with President Bush on Air Force One. He was likable and sharp"—PusBoy
says
:
When you make a point to call someone "sharp," isn't it usually when you're describing someone who's 90 years old or older and still driving?

I met Mr. Jones, and he's very sharp. For his age. I mean, compared to someone in his 20s or 30s, he's a fucking idiot, but compared to other 90-year-olds, he's top notch. Well, maybe a B+. On a curve. Anyway, the dude is sharp. Okay?"

Rest easy, America. President Bush is "sharp." Sharp like a pickle.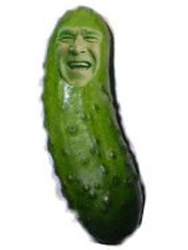 Awesome.