The Virgin makes
another appearance
:
Workers at a chocolate company have discovered a five-centimetre-all column of chocolate drippings they believe bears a striking resemblance to the Virgin Mary.

Since the discovery of the drippings under a vat Monday, employees of Bodega Chocolates have spent much of their time hovering over the tiny figure, praying and placing rose petals and candles around it. "I was raised to believe in the Virgin Mary but this still gives me the chills," company co-owner Martucci Angiano said as she balanced the dark brown figure in her hand during an interview Thursday.

"Everyone should see this."
As you wish, Ms. Angiano.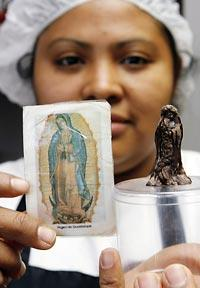 Thanks to Misty for passing that along, and to
Pam
for the picture.
Holy folks Gone Wild on
dying plants
,
sheet metal
,
trees
,
more trees
,
wardrobes
,
water stains
,
grilled cheese sandwiches
,
potato chips
,
plates of pasta
,
drywall
,
fish
, and
more fish
.