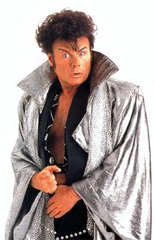 Yeah, well,
I
heard
that Glenn Greenwald is
really
Gary Glitter, glam rock trailblazer and convicted pedophile. They even have the
same initials
, for crying out loud! It's so obvious. Have you ever seen them in the same place at the same time? Neither have I!
As far as I'm concerned, it's up to Glenn to prove he's
not
Gary Glitter, or I'm going to write posts about how he
is
Gary Glitter for an entire week! Maybe more!
Because that's what real patriots do, bitchez.