Miss Peter LaBarbera, founder of Americans for Truth and Executive Director of the Illinois Family Institute, whose compulsion for investigating All Things Gay, including Chicago's International Mr. Leather, has been well documented by
Pam Spaulding
, will undoubtedly be first in line to see
this one
:
Leather fans will hit the big screen early next year in "Mr. Leather," a documentary that examines an underground gay subculture.

Specialty distributor Here! Films has roped in worldwide rights to Jason Garrett's directorial debut, which follows nine men with a dream: to be crowned Mr. Los Angeles Leather.

In addition to following the black-clad contestants to the 2003 contest, where tastes ranged from police uniforms to metal-studded G-strings, Garrett interviewed sex experts, psychologists and doctors about the leather-fetish phenomenon.
Get thyself to Fandango, Miss LaBarbera,
tout de suite
!
Btw, I'm no expert, but I think the leather-fetish phenomenon might have
something
to do with the fact that a lot of leather queens are HOTT.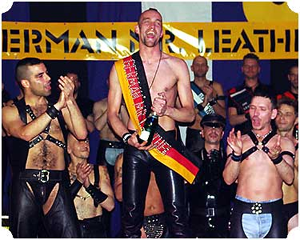 German Mr. Leather 2005