So, the GOP sucks, the Dems suck, the electoral college sucks, and the party-line Congressional districting that all but guarantees 99% of incumbents reelection sucks. I'm thinking, let's just scrap this whole thing and go back to a monarchy. Don't get me wrong; I want a modern monarchy like Britain, where there's a parliamentary democracy underlying it, but the whole head of state and head of government being one and the same thing sucks, too, so I say let's kick the presidency to the curb and get us a prime minister and a royal family.
Just to prove I've really thought this thing through, I've even selected the new American royal family: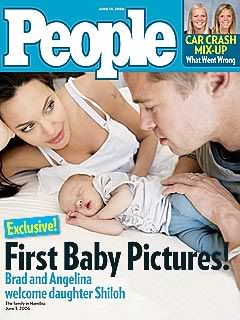 In case it wasn't obvious, I'm only kidding. I just wanted a reason to show that lovely picture of the Jolie-Pitts. They sold that shit for like $4 million, and it's all going to charity. I love them—and not because I'm a starfucker. I've just really admired Jolie's UN ambassadorship and million-dollars-at-a-time donations and various other humanitarian stuff for years. She's tres cool.