Jesus has made
another appearance
—this time in a dying asparagus plant in Britain.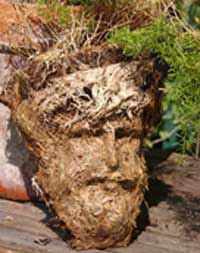 Martin Gregory,52, was enjoying a Sunday afternoon in his garden. Deciding that his ten-year-old asparagus plant was dead, he pulled it from its pot.

"I dug out the plant and put it on the side but, when I looked at it again, I could see a face staring straight back at me," Gregory said.

…But the part-time mosaic tutor is trying to keep a level head about the whole affair.

"It has not made me religious. But it could be something supernatural linked to the abbey ruins [across the way]. We don't know what's in the ground."
Jesus juice?
Holy folks are just going hogwild these days, presenting their images on
sheet metal
,
trees
,
more trees
,
wardrobes
,
water stains
,
grilled cheese sandwiches
,
potato chips
,
plates of pasta
,
drywall
,
fish
,
more fish
, and other junk. Forget Page Six—we need a Page 777 to keep up with all these holy sightings.