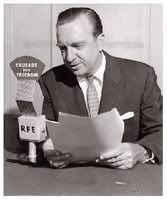 Yesterday it was
reported
that news outlets' phone calls were being tracked by the government "in an effort to root out confidential sources." Late last night, ABC's
The Blotter
updated the story with the news that the FBI had confirmed the practice and explained (emphasis mine):
"It used to be very hard and complicated to [seek reporters' phone records in leak investigations], but it no longer is in the Bush administration," said a senior federal official…

"The FBI will take logical investigative steps to determine if a criminal act was committed by a government employee by the unauthorized release of classified information," the statement said.

Officials say that means that phone records of reporters will be sought if government records are not sufficient.

Officials say the FBI makes extensive use of a new provision of the Patriot Act which allows agents to seek information with what are called National Security Letters (NSL).

The NSLs are a version of an administrative subpoena and are not signed by a judge. Under the law, a phone company receiving a NSL for phone records must provide them and may not divulge to the customer that the records have been given to the government.
Kevin Drum says
, ominously, "The FBI is now harrassing reporters in a way that previously required the consent of a judge -- which usually wasn't given except as a 'last resort.' NSLs, by contrast, are issued by the FBI itself. There. Is. No. Oversight. At. All."
Last November, the
WaPo
took a look at the FBI's
increasing use of NSLs
:
The FBI now issues more than 30,000 national security letters a year, according to government sources, a hundredfold increase over historic norms. The letters -- one of which can be used to sweep up the records of many people -- are extending the bureau's reach as never before into the telephone calls, correspondence and financial lives of ordinary Americans.

Issued by FBI field supervisors, national security letters do not need the imprimatur of a prosecutor, grand jury or judge. They receive no review after the fact by the Justice Department or Congress. The executive branch maintains only statistics, which are incomplete and confined to classified reports. The Bush administration defeated legislation and a lawsuit to require a public accounting, and has offered no example in which the use of a national security letter helped disrupt a terrorist plot.

..."The beef with the NSLs is that they don't have even a pretense of judicial or impartial scrutiny," said former representative Robert L. Barr Jr. (Ga.), who finds himself allied with the American Civil Liberties Union after a career as prosecutor, CIA analyst and conservative GOP stalwart. "There's no checks and balances whatever on them. It is simply some bureaucrat's decision that they want information, and they can basically just go and get it."
In other words, not only is there no oversight at all; there's also no legal recourse for media who now know their calls are being tracked.
Josh Marshall summarizes
, "I guess there's some extremely mild solace to be taken in the fact that the administration has apparently deigned to follow the law in this case. But a police state law still gets you a police state."
(Crossposted at
AlterNet PEEK
.)