Well, it certainly appears that way. What
chemical weapons
would Jesus use?
Detectives say it's an act of local terrorism. An adult bookstore is cleaning up after a chemical attack by a homemade device that investigators are calling a "weapon of mass destruction."

In Waldo, people have held prayer vigils and protests aimed at an adult bookstore along US 301, trying to keep the "Cafe Risque" from opening its doors on time.

Those efforts have all failed, so investigators say it looks like someone has turned to what they're calling a clear act of terrorism to keep the store's owner from opening up shop.

The device, discovered Sunday morning, was made of two gallon-size sports drink jugs connected by hoses. Someone set it on top of the store's window air conditioning unit.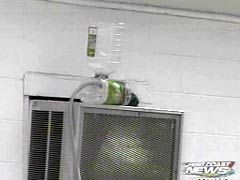 Investigators are still trying to determine what substances were used, but know that "it was caustic, it was corrosive, it had a high pH level," and that the "contaminated trash filled two dumpsters." The clean-up could cost the state at least $30,000.
There was a security camera rolling when the device was planted, so the police already have "some people of interest that we're looking at." Because the device is technically classified as a WMD, the perpetrator is "looking at hundreds of thousands of dollars in fines, and... 30 years in jail."
"You're trying to hurt people. You're trying to change their ideas or instill fear. And that's exactly what the terrorists do. So this person is a local terrorist," [Alachua County Sheriff's Sergeant Keith Faulk] said.
Over an adult bookstore.
What kind of maniacal asshole thinks an adult bookstore is more dangerous to a community than using WMDs? For crying out loud.
(Thank to
Fritz
for the link.)