CBS News is reporting that Rush Limbaugh has been arrested on prescription fraud charges! More news as I can find it…
(Via
Think Progress
; thanks to
Blogenfreude
for the pointer.)
UPDATE: Okay, here's
more
…
Limbaugh turned himself in to authorities on a warrant issued by the state attorney's office, said agency spokeswoman Teri Barbera.

The conservative radio commentator came into the jail at about 4 p.m. with his attorney Roy Black and was released an hour later on $3,000 bail, Barbera said.

The warrant was for fraud to conceal information to obtain prescription, Barbera said.
All I can say is: HAHAHAHAHAHAHAHAHA!!!!!!!!!!
It will probably be a slap on the wrist, but I don't care. This is awesome!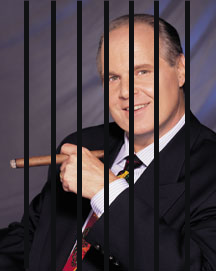 Whose bitch do you have to be
to get a Cuban in this joint?