In
an interesting post
about the fecklessness of newspaper editors on the subject of The War, Mannion rather cheekily refers to Generation X as "the Most Useless Generation Ever."
Harrumph.
My mind slipped into a fuzzy malaise at the notion that my peers and I were so utterly lackluster, our angst having paralyzed us with an apathy so resolute as to proscribe mounting a genuine challenge to the Boomers, whom Mannion deemed "the Worst Generation Ever." Surely, we could be just as bad…couldn't we?
Everywhere I looked was evidence that Mannion was right. We voted for Bush in fewer numbers, we're more interested in balancing family and career, we're less bigoted, we're more environmentally-minded; the list goes on and on. This whole generational progressivism was really boding badly for us (Generation Y is even further off the Worst mark). But then I stumbled across evidence that, given time, we will indeed be just as heartless, soulless, and—most importantly—devoid of all traces of our youthful idealism as the Boomers.
Fear not, my Gen X compatriots—we have turned one of our tragic icons into a
dolly
.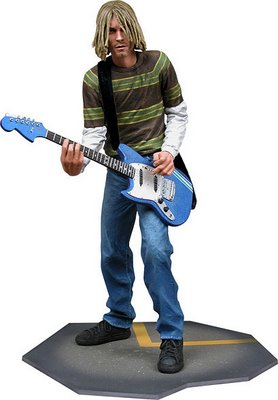 While Kurt Cobain may no longer be part of the corporeal world, his words, voice, music, and attitude can still be felt today thanks to the full albums, videos, and unheard of amount of bootlegs left behind. Sure, there are still some songs here and there that diehard Nirvana fans may have not been able to get in its finest form of clarity, and we are still waiting for an official DVD release that catalogs all their music videos, but the one thing that many fans have been asking for and have never received in ANY form, official or not, is an action figure. Many other musical icons have been brought to plastic and NECA is proud to be able to bring that same respect and admiration to Kurt Cobain's memory with our figure.

Based on his appearance in the video for "Smells Like Teen Spirit" this Kurt Cobain Action figure includes his guitar, rendered in painstaking detail, and part of the gymnasium floor as his base. Be on the lookout for Kurt to stand with his guitar again on store shelves late in June. Here is our first look at our "Smells Like Teen Spirit" Kurt Cobain.
Mmmmmmm.
Smells like splitting stock, baby.
What better way to crush the memory of a man haunted by the commodification of his art than by mass producing his very visage? It's the ultimate in ironic avarice.
Take
that
, Boomers! In. Your. Face.