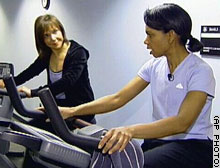 Secretary of State Condoleezza Rice is participating in a three-part interview done while she's
exercising
. Throughout the interview, she "rides a bike, works on her abs, pumps iron, and talks about her weight."
I'll ignore the obvious gender issues here—I doubt Henry Kissinger or Alexander Haig would have subjected themselves to this kind of nonsense—and just move on…
[Alicia Moag-Stahlberg, executive director of Action for Healthy Kids, a coalition of more than 40 health and education agencies] lauded Rice for opening up her exercise routine to the public, adding: "It does take someone who has good humility to show all sides of themselves."
Like the side of themselves "sweating in ordinary workout clothes."
The most pathetic part of this whole thing is that it's the best the administration can do to show its humanity—send out Condi to work on her abs in front of a national audience.
Here's a radical suggestion: How about just showing a little more genuine humanity to the American people? Pricks.