This is
so cool
.
Soon after scientists landed by helicopter in the mist-shrouded mountains of one of Indonesia's most remote provinces, they stumbled on a primitive egg-laying mammal that simply allowed itself to be picked up and brought to their field camp.

Describing a "Lost World" — apparently never visited by humans — members of the team said Tuesday they also saw large mammals that have been hunted to near-extinction elsewhere and discovered dozens of exotic new species of frogs, butterflies and palms.

"We've only scratched the surface," said Bruce Beehler, a co-leader of the monthlong trip to the Foja Mountains, an area in the eastern province of Papua with roughly 2 million acres of pristine tropical forest.

"There was not a single trail, no sign of civilization, no sign of even local communities ever having been there," he told The Associated Press in a telephone interview from Washington, D.C.

Two headmen from the Kwerba and Papasena tribes, the customary landowners of the mountain range, accompanied the expedition, and "they were as astounded as we were at how isolated it was," Beehler said.

"As far as they knew, neither of their clans had ever been to the area."

The December expedition was organized by U.S.-based Conservation International and the Indonesian Institute of Sciences, and funded by the National Geographic Society and several other organizations.
The primitive mammal referenced above is a long-beaked echidna, which, if its non-long-beaked cousin is any indicator, sort of looks like a platypus crossed with a porcupine. The scientists also found golden-mantled tree kangaroo, which were previously thought to have been hunted to near-extinction, among other animals. They've also discovered 20 new frog species and 4 new butterfly species so far. Totally fascinating. (More from
Conservation International
.)
I always love reading about the discovery of new species, or species thought to be almost or totally extinct. I'm not sure why, exactly. I mean, I adore animals, so there's that, but it's more something to do with liking the idea that we haven't exhausted all the discoveries that Earth provides us yet, no less the universe. It's sort of the same reason I like pictures like this: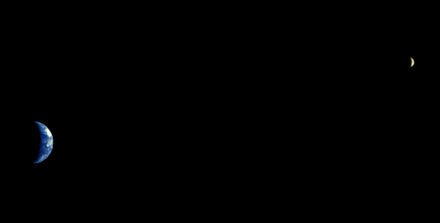 That's us—from 8 million km away, taken by the Mars Express spacecraft on July 3, 2003. We're so small. Just a blip. I've seen one that was taken from even further away, in which Earth looks like no more than a speck of dust, but I couldn't find it. That's my favorite.
Tangentially, yesterday I found
this collection
of pictures of strange sea creatures washed up during the tsunami. They're so weird and wonderful.